Lewisporte Multi-Use Trailways
Our spectacular terrain and spacious trails are perfect for ATV enthusiast!
Lewisporte is home of some great ATV trails, and they are only getting better, with new signage, brush removed, and trails groomed it is a fun and exciting way to spend your day.
ATV Safety
ATV riding is a great outdoor activity many people participate in throughout the year. This sport can be fun and exciting but is also extremely dangerous. It's important to protect yourself while on an ATV to prevent accidents and injury.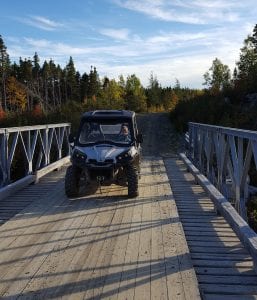 Always wear protective gear. Under the Highway Traffic Act, you must wear an approved helmet
Carry a cellphone with you
Always let someone know where you're going and when you'll be back
Know where you can and can't ride. Police can charge riders driving on highways and rights-of-way under the Highway Traffic Act.
Ensure your ATV has a valid permit and is properly licensed and insured
A person must be 16 to operate an adult size ATV (more than 90cc).
A person aged 14 or 15 can operate an ATV up to and including 90cc, if accompanied and supervised by a person 19 years of age or older.
A person under 14 years of age is not permitted to operate any size ATV
Always wear a helmet
Don't drive along public roads and highways
Never drink and drive an ATV
Only carry passengers on ATVs designed for a second person
Respect the environment
You must be 16 years old to operate an adult size ATV