Hann's Point Dinner Theatre
Located in the By the Bay Museum in Lewisporte, the Hann's Point Dinner Theatre was founded in May of 2003 in a very unusual way.
Two of it's founders, Glen Fudge and Lorne Goulding had been working together since 1999 and had co-directed several award winning high school productions at Lewisporte Collegiate. In 2003, working from a Lorne Goulding story idea, the pair made their first attempt in writing their own play. The result was the enormously successful "Blind Faith," which won the Regional High School Drama Festival held at the Rising Tide Theatre in Trinity.
The buzz created by "Blind Faith" led John Sutherland to believe that maybe it was time for Lewisporte to have its first dinner theatre. With sponsorship from the Lewisporte Town Council and a tremendous effort from Sutherland and the towns recreational director Derek Bennett, the Hann's Point Players were born. The name of the company originates from the name given to a point of land in the east end of Lewisporte that was used by the Royal Canadian Artillery during World War II. In June of 1942, an explosion occurred at Hann's Point killing and injuring several soldiers. The event became known as the Hann's Point disaster.
The first season of dinner theatre, with the play "Blind Faith," was a huge success. Therefore, a second season was planned.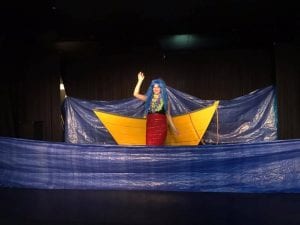 The town turned over the sponsorship of the company to the Lewisporte Area Chamber of Commerce and Glen Fudge and Lorne Goulding were asked to produce another play for the summer of 2004. They followed with "The Little Newfoundlander", again written and directed by Fudge and Goulding. This play used as its backdrop, the Hann's Point disaster. The production was a tremendous success with sold out performances.
The Hann's Point Players have become a successful dinner theatre troupe that has won numerous awards over the past 5 years and all of it's productions have been critically acclaimed. The attendance for the dinner theatre has grown rapidly and the 2007 season was another huge success.
With this success, the LACC felt that Lewisporte Area was now ready to showcase its own Summer Theatre Festival. A volunteer festival committee was struck to oversee the complete operation of this festival. The festival runs for an eight week period in which several theatrical productions, including dinner theatre, lunch hour concerts and children's theatre are presented at different venues throughout the town!